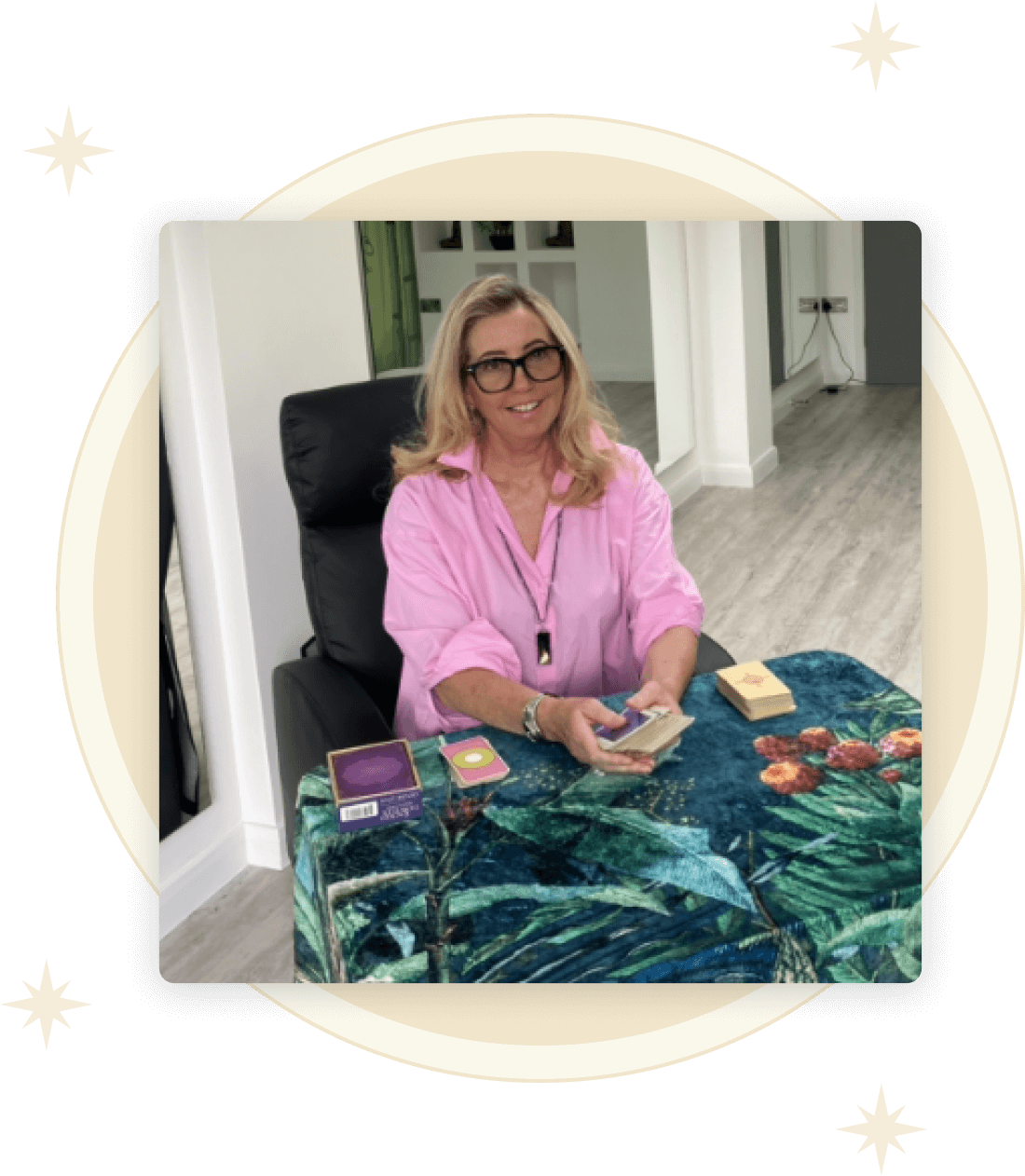 Hello, I am Mary Redmond a passionate psychic based in Hertfordshire. I provide accurate, detailed readings for my clients.
These are stressful times and in times like these most of us have some anxieties with life. To help ease these pressures in life I offer independent guidance to help restore your inner peace.
Through Tarot, Clairvoyance, Chakra Reading and Palmistry, I am able to offer empathetic but realistic answers to what concerns you.
Whether the issues or anxieties you have are regarding relationships, finance, career choices or traumatic events in your life, I am here to help.
About Mary
My Services
I offer a combination of Palmistry, Chakra Cards, Tarot Cards, and Clairvoyance to help you with the pressures of life. Most clients opt for a private sitting in the comfort of my spiritual sanctuary in St Albans. This sanctuary is set up to appeal to all of your senses with diffused essential oils, subtle lighting and healing music. Once the reading is over I will invite you to ask me any questions you may have. This will allow me to provide full clarity to you so that you can begin to make changes in your life with greater confidence.
Palmistry
The first step in your sitting. I will start by holding your hands to help me tune into your energy before reading your palms.
Chakra Cards
The next step is to use Chakra Cards. I will ask you to select four cards. These cards will guide me in making an assessment of the things that are currently troubling you.
Tarot Cards
Then we turn to the main part of the reading, the Tarot Cards. The cards you turn over here will be very revealing and will help me to bore down on your most pressing issues.
Clairvoyance
Throughout the entire experience I will use my psychic and clairvoyant abilities that will provide a comprehensive reading.
What My Clients Say
I pride myself on my connection with my clients and how my readings have helped benefit them in their everyday life.
View All Reviews
Tom M
Name: Tom M
Review:
I met with Mary last night for what was a very intuitive, relaxing and informative session.
From the beginning where I was put at ease and helped to relax and release tension, it felt very comfortable.
Afterwards, Mary gave me some clear insight into my current emotional and physical needs which really were accurate if I am honest with myself. The cards also picked up on my exact situation in an uncanny way.
Mary went over and above in also advising on holistic, and dietary help and solutions for my wellbeing and I would like to say a big thank you.
10/10 would recommend and will be returning in future.
—
This e-mail was sent from the review page on Mary Redmond (https://maryredmondreadings.com)
CACAO CEREMONY
I attended a cacaa ceremony with Mary in her tranquil space in her home.  From the moment I arrived it was an experience with being cleansed at the door to the calm relaxing space that had been set up for myself.  Mary had thought of everything to bring as much comfort and peace to the ceremony.
Mary explained the journey we would take within the ceremony and the guided meditation in an easy way to understand.  I then drank the Cocoa and laid down for a guided meditation wrapped in soft blanks and a jade eye mask to aid relaxation.  Mary has a calming voice which enabled a deeper connection to the mediation and was very easy to follow.
I then finished the mediation and picked a card with Mary explaining the meaning for me.
The whole experience was deep, calm and relaxing, all within a secure space that enabled you to go deep into the mediation.  Mary was always there to guide you and help if needed or to give you quiet time to reflect.
Victoria Morris X
Maya
Name: Maya
Review:
I recently had the pleasure of experiencing a reading with Mary, and I must say I was blown away by the accuracy and depth of her insights. Going into the reading, I was unsure what to expect, but Mary put me at ease right away with her warm and compassionate demeanor.
Throughout the reading, Mary was able to tune into my energy and provide me with insights and guidance that resonated with me on a deep level. Her ability to pick up on details and emotions was truly remarkable, and I found myself nodding in agreement as she spoke.
What I appreciated most about Mary was her ability to give me practical advice on how to move forward with my life. She didn't just provide me with general platitudes, but rather specific steps and actions that I could take to create a brighter future for myself. So very grateful.
My Blog
Welcome to my new website
Welcome to Mary Redmond Readings, I am delighted to announce the launch of my new website. With over 20...